Sprinter Van Cabinets for DIY'ers
UPDATE: RoostVans.com offers these flat packable upper Sprinter van cabinets, open shelves, and the ready to install cabinet mounting system for the do-it-yourselfer!
Don't have a full wood shop? Have a busy schedule? (Who doesn't…) Need something that won't break the bank? We've made a slick upper Sprinter cabinet for our rig and can make a set for you too.
Why Cabinets?
Once we got the adjustable bed system for our Sprinter dialed in, we had to find a place to store our clothes, games, toys, and baby gear, and keep everything from flying around while driving. With so little square footage in the van—82 square feet to be exact—we needed to take advantage of some of the precious area for storage, and procure some upper cabinets.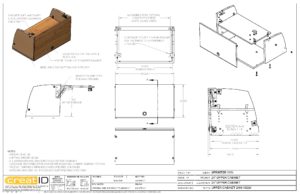 Initially we looked at some outsourced options. Although well-made and competitively priced in the $315-$475 range, aluminum cabinets were too expensive to ship up the west coast at $110…each! Multiply that by the eight upper cabinets that we planned to install and the price tag immediately rocketed out of our budget.
More importantly though, the aluminum construction design was cold and not in line with the warm utilitarian cozy aesthetic we were going for. So, as any self-respecting industrial-designer-do-it-yourselfer on a Sprinter van conversion build would do, we made something custom and non-standard…with a twist: We made a kit we could share with other DIY'ers in the same boat.
Design Requirements for the Sprinter Van Cabinets
Aesthetically the cabinets needed to:
Play well with the Douglas fir cladding on the walls, with material that would pop visually, but not be too overwhelming.
Feel small. Putting a bunch of volume on the roof corners all around has the tendency to create a claustrophobic feel. It was important to implement some design tools to reduce this effect.
Functionally, they needed to:
Store as much as possible
Be as structurally safe as possible in case of a collision
Be out of the way
Be inexpensive
Be easy to reproduce
Have as few components as possible
Not squeak
Utilize the track mounting system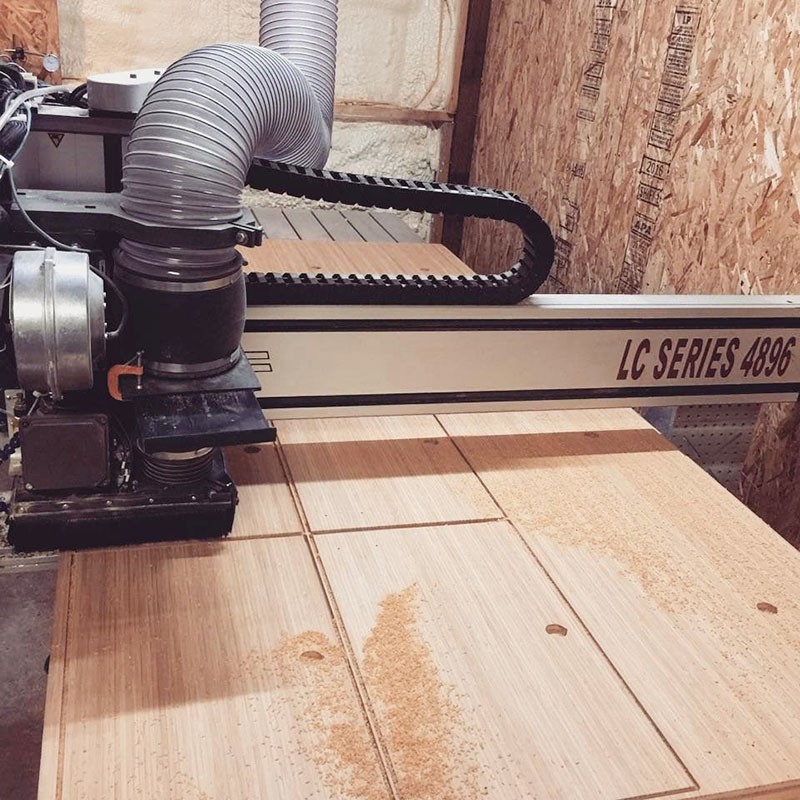 We optimized production for 4 x 8 size sheets and utilized the repetition capability of CNC router technology for manufacturing. Also, considering the shipping expense of other options, we thought ahead and created a flat packing shipable design that was ready to assemble.
With SolidWorks CAD, the cabinet concept became a quick reality and the idea proved itself when we designed a three-sided box plus door concept. Since the T-Slot provides so much structure at both the rear and top when the cabinets are installed, it eliminated the need for a rear and top cabinet face. This feature reduced weight, cost, and shipping size. But, it created a significant challenge with sourcing hinges. Thanks to a ton of research and our hardware vendors. we got the design nailed.
Introducing CreatID Flat Pack Sprinter Van Cabinets
Our custom Sprinter van cabinets are a three-sided box design, flat packed and ready to assemble with the following awesome features:
Scribed to fit the curvature of the van interior walls
Lots of storage at about 13" deep, 12" tall, and 24" wide
Made from 3/4″ USA sustainable Apple Ply (13 laminated sheets of veneer)
Mounted with sturdy aluminum brackets
An ultra hard Stranded Bamboo 1/2″ front face with a round over
The Forehead Saver: an angled lockable cabinet door, designed to reduce visual volume and spring open parallel with the ceiling— to stay out of forehead range
Underside slot for a flush mount LED light
Secure and adjustable shelf
Veneer-to-match finish options, for any interior aesthetic
Flat pack and ready to assemble for economic shipping
Basically we made a high-quality, reasonably lightweight, extremely strong cabinet that I can hang from. It's quick to install, remove and adjust with a T-Slot system installed in your van. Without the T-Slot, the cabinets can be installed directly to the van interior ribs. Albeit a bit more challenging.
The Van Cabinets and Real World Usage
To break up the big length of cabinetry a bit, we created some open shelves that have a small lip on the front, match the rest of the cabinetry, and allow for open storage space. Along with the slightly angled faces, this addition reduces how visually imposing head height cabinets can be. The shelves also have a couple of different height positions available depending on which way you flip the brackets.
When my wife and I loaded the van for our first trip, we were blown away by how much we were able to pack away in this array of cabinetry. It was unbelievable.
All the crap that two adults playing three different sports and packing a 16-month-old kiddo for a month long road trip disappeared before our eyes. Then we loaded the bikes and trailers under the bed with nothing else on the floor tripping us up. Amazing.
Furthermore, after a month long road trip and the cabinets holding up great, including a few hundred miles of washboards, we knew they were ready for prime time.
Get Your Own CreatID Sprinter Van Cabinets
These beautiful 24" wide cabinets are available to purchase, unfinished or finished and with the option for custom veneer. Please inquire if you are interested in veneer options due to material yield. Shipping is about $40 for each cabinet depending on your location.
The kit includes all assembly hardware, plus brackets to attach to your van. However, you are responsible for and will need to supply the screws for attaching the cabinetry to your van.
If you are in the Portland area, reach out to see them in person, schedule a pickup, or have CreatID install them for you. If you have any additional custom needs, we'd be happy to help.
If you are interested in these cabinets head over to Roost Vans to order.
---
Stay tuned…
Next up: we tackle the lower cabinetry and created a full service kitchen with drawers, water storage, waste water, sink, fridge, cooktop, battery/inverter storage, and still have a galley width of 40 inches. Read this as: "My wife, kid, and I still have enough room to stand up in the van kitchen together."